♥☗♥ CUPID blocks DOORWAY – Part III ♥☗♥
Part Three of "December's Dark Door."
If Women's Medical Issues disturb you, go elsewhere.
There are no candy coatings here.
The actual date of my 2nd appointment with the OB/GYN was unknown to me. Rick knew that it was immediately after the ultrasound, but I had unfortunately left that part out of my memory. When I mentioned casually that I wondered when the appointment with the Specialist was Rick said – "After the ultrasound, don't you remember?" My answer was an honest "no" so the next day Rick called and made certain. Sure enough, same day, he was correct. The Trans Vaginal Ultrasound was on January 25th, 2018 at 8:15 A.M. and the appointment with the OB/GYN was at 9:00 A.M. "How lovely" I said with sarcasm, "two prizes in one day."
All the bravery I had gathered up while writing Part II suddenly vanished. I was going to see the Specialist right after the ultrasound. The appointment was made back on December 29th, 2017 and I did not take notice. Too afraid of all the possibilities with the current situation, to gather important details that Rick was making with the Receptionist. Now with telephone call made I had 3 days to gather up courage for both visits. Though not scared of the ultrasound, I was concerned with what it would find and then the course of medical action my Gynecologist would take. I was firm on one thing – no way in heaven was I going to endure a uterine biopsy. I was wondering what kind of fight my OB/GYN would have with my decision on this. I was already dreading the drama.
Although Rick and I went to bed the night before at a decent hour, I did not fall asleep until around midnight and then at 2:00 A.M. I was awake – WIDE AWAKE! I tried everything, turning to different positions on the bed, reflecting on nice things, counting numbers, nothing worked. With only 2 hours of sound rest I was sitting in the bathtub again, even more fear this time than the last. It is building, it seems, each time.
I could not eat breakfast and a cup of coffee and 32 ounces of water (2 bottles) was what filled up my stomach. The water was needed for the ultrasound, the coffee – my sanity. The Ultrasound Office was the most incredible medical building I have ever witnessed. Not just free coffee but also tea and get this – a large Coca Cola see-through cooler filled to the brim with Coke products of every kind including more bottled water, soft drinks, sports drinks, milks, juices. "They're all free – have as many as you like!" Shouted out a sweet lady who worked in reception. Rick chose Coke Zero while I grabbed a Cherry Coke. "This is unbelievable man" I said to Rick who responded back with "I know, I have never seen this before!" We opened our beverages and no sooner had a sip hit my lips we were called back. It was all good, they let us take the drinks.
The Ultrasonographer was a year younger than our daughter. Having this procedure done by someone I could have birthed skeeved me out. She was very nice but her age vs mine made me want to hide. It was interesting however seeing a few things. My favorite being an inside "scar" from where our daughter had "latched on" and began growing shortly after conception. Her "Bridge to Life", I thought. Every woman who has conceived a child will have a scar inside their uterus – for every baby.
The size of the scar showed her that this particular scar, the length and width, came from a full term pregnancy. I went 39 weeks with our daughter. I was staring at the place where she grew. I did not want to take my eyes off of it, everything else disappeared. The scar, I was proud of a scar. I have a Badge of Motherhood! Perhaps that is bizarre, but I was, and I could not help it. Having one healthy baby who survived was my life, it was not just a bucket list. The scar got a smile from me.
I then noticed bubble like things going down in a row. I asked her, "what are those?" She said that they were cervical cysts and that almost every woman who has birthed a baby will have them. "Far out!" was my reply, I found it all very interesting. Ah, but that is me and medicine.
The ultrasound did not hurt until she turned it upwards. I wondered at that moment exactly why that happened when it was moved. I was filled with dread once again, remembering exactly why I was here. For a moment, I was captured by a scar from long ago, nothing else was entering my mind. Now I was back to present and worried. About 10 minutes later I was re-dressing in the bathroom and noticed that the bleeding which had greatly slowed down before, was now back and heavy. I rolled my eyes. "This cannot be good" was swirling through my head. We left the Ultrasonography Office and headed to the OB/GYN.
While we zoomed from floor to floor on the elevator the results of the ultrasound was sent to the Specialist. We approached the receptionist and I boldly told her we were there but I was declining the biopsy. She seemed ticked off. I kept asking myself, why? She works in reception, why would this annoy her? Because she had to write on a chart, "Patient is refusing Uterine Biopsy"?
I stood my ground, making a face that shouted, "Lady you DON'T want to argue with me. I am afraid of what is wrong with my body and I will eat you alive! Wench, you will lose this fight in a BIG way!" Fortunately that did not transpire. The other receptionist, the younger of the two, stepped into the conversation and said, "that's no problem, I'll write it down and tell her. Thanks, just have a seat." There, I thought, that's better. Why the older woman wanted to bicker with me, as if I inconvenienced her in some way, is still questionable. I would guess her age to be around 55 or so. Maybe she had a biopsy once and now thinks, "I had a biopsy -and- she should too!" Who knows? We just sat down and waited.
Around 15 minutes passed, the door opened and I was called back. As always, as it is preferred by me, Rick followed behind. The Specialists tech (who I had thought was an RN until that day when I asked her) was told I was not getting the biopsy. She had no idea and it was not written down. So much for trusting the Receptionists. We entered the room and all the Biopsy materials were laid out. I saw the hemostats and about fell over backwards. The Tech told me to undress from the waist down and cover up with a pink blanket but I did not. I saw no need to and as it turned out, I was correct.
My OB/GYN Specialist came in smiling but she looked sad. I saw right through it. This was not anger, I read it all over her face. There was something preoccupying her mind. She looked apprehensive. Sweeter by the minute she came in hugging me. She complimented my blouse, "Oh you are so pretty with this shade of hot pink, I love it!" She smiled but she looked pained. She was not angry about the biopsy. That was the last thing on her mind. She was worried about me, it showed. It is hard to fool me.
The first thing she brought up was the A1C Test for diabetes. "Sheri your A1C is lower than mine, as a matter of fact, we have never had anyone come in with an A1C this low, so good for you!" My question was what is average and what was mine? She smiled again and said, "Sheri you scored a 4.4 and that is wonderful! Scoring a 5.7 and below is considered Normal – 5.8 to 6.4 signals Pre-Diabetes and Type 2 Diabetes is anything over 6.5 – you are definitely NOT a diabetic scoring a 4.4!" I cheered a yay, Rick said "Wow babe, I have scored an 8 before on my own A1C, that is great sweetheart!" I felt proud again, though for a moment only.
The doctors face turned serious and she agreed with me about the biopsy saying, "Sheri, I can only get about 70% of the information that I need from a Uterine Biopsy." – "This is more complicated and I want to schedule you for a D&C with Hysteroscopy." – Wow, I was not expecting the hysteroscopy, that blew me away, but I was relieved because I knew I would be under general anesthesia and not feel anything. This is not my first carnival ride with a D&C, I was relieved – at first.
She continued . . . "Sheri the ultrasound shows that your uterus is twice the size it should be, and I am sorry to tell you that this is a sign of Uterine Cancer." Looking down at her papers she went on, "Your endometrium that lines your uterus is also nearly twice the thickness that it should be." – "A normal endometrium should be between 8 and 11 mm, yours is 15.5 mm and anyone over 11 mm is at high risk for Carcinoma, Uterine or Endometrial Cancer." – "The higher the number over 11 mm the greater the chance for cancer. Sheri, your endometrium is 15.5 mm and I am very troubled with this."
It felt like all the oxygen in my lungs was suddenly sucked out. I felt numb, faint, body shaking, no tears but I looked over at my husband who appeared that he was about to weep. "I am hurting him" I said to myself. – "I am terrified" – "I don't know what to say." again, to myself, silently. I finally spoke up and said, "Yes, a D&C (Dilation and Curettage) and Hysteroscopy, as soon as possible. A few more words were said that I do not remember being spoken. Rick said that the Doctor predicted the D&C would be in mid-February 2018 but I do not recollect any of that. After she said the word "cancer" and what thickness my endometrium is vs what is normal, I really do not remember anything else.
The next thing I was aware of was her standing up and hugging me again. It did not bother me, it was a sweet, genuine, warm hug. A doctor who greets you with a hug and leaves hugging you as well – this must be extremely serious. I got off the table and said to Rick I might faint. They grabbed a chair for me but I got it together before sitting. I could not and still cannot believe what I am facing. I am thunderstruck.
Regardless, Rick and I refused to let that ruin our Love for one another. Cupid stepped into this dark doorway early because what I will be up to on Valentine's Day 2018 is still unknown. Rick and I decided to celebrate Valentine's early on January 27th, 2018. A rainy Saturday evening that lead to an all night affair. It was glorious! I was trying to not think about what the reality is, soak up the known fact of being in a LONG LASTING LOVE (1984) with my SOUL MATE, mindless of the future, and just be in the moment, the now.
We traveled to one of our favorite Gift Shops where I picked out a 3 Foot Tan Terry Cloth Teddy Bear, decorated with a Burgundy Neck Tie, I named him Eddie Bear. Rick chose a 2 foot Black, Yellow, Brown and White Leopard with ultra soft faux fur, his name is Judah. I then picked up 2 heart shaped boxes of Lindt Chocolates.
Traveling off to another town we purchased a new mattress and box springs. The nicest one we've ever had. I'll say, just the grey and black mattress and box springs were $6000.00, the frame (we have to order online) will up that price another $3500.00. We have been married for nearly 32 years, I think we have earned this! We set up a delivery date and headed out for dinner.
Carrabba's Italian Grill seemed to be calling out to us and we traveled to our destination. Getting a table right away, we were seated and drink orders placed. Rick with a diet Coke, and me, a Cherry Coke. Can you tell I love them? Soon a nice loaf of bread, olive oil and fresh pepper to dip it into and 2 Caesar Salads were set before us. Ordering appetizers next, we decided to share two. Baked Cheese and Bruschetta with Tomatoes, and loaded, extra crunchy "real" French fries with Prosciutto and Pancetta, melted cheese, and vegetables.
Everything was delicious and our entree's came out quickly as well, before our appetizers were finished. The table was filled with food. Newly added was Rick's Lasagna Bolognese and my Fettuccini Alfredo with Chicken and Whole Roasted Garlic – divine! Lastly Rick had a coffee drink and I a Cappuccino, as we shared a nice slice of Strawberry Cheesecake made on a shortbread crust of cookies. We were stuffed but pleased with such a wonderful night together.
This year our Valentine's Day came sooner than ever before. It was a night of magic. Sparkles of Love twirled inside our eyes. We do not know what is coming in the days ahead or what the next several weeks will manifest. This is the now – and we are living it!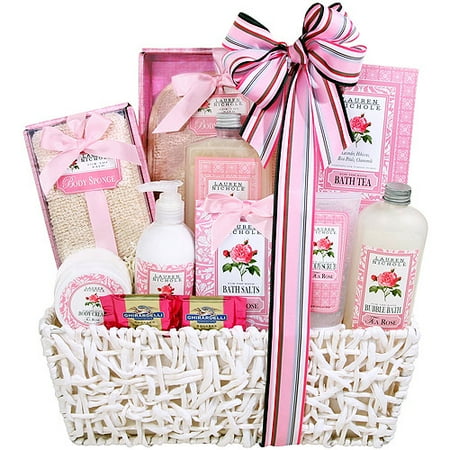 Alder Creek Gift Baskets, Lauren Nichole, Tea Rose Seasonal Gift Set, 12 pc
CLICK to PURCHASE – FAST SHIPPING!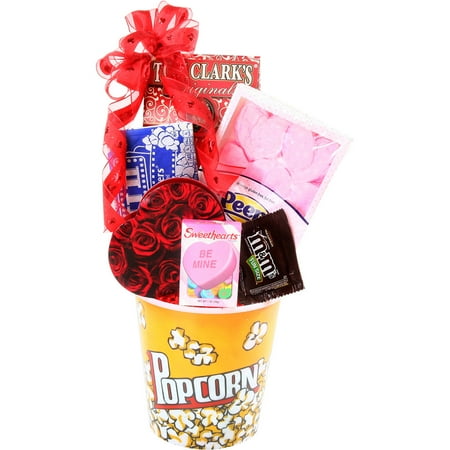 Alder Creek, Valentine Movie Sweets Gift Set, 7 pc
CLICK to PURCHASE – FAST SHIPPING!

☗ The Door Opens – Part II ☗ ☠☗ LOCK'S DOOR – Part IV – FINALE ☗☠